Is it possible to get a 100% free digital signage solution?
You certainly are looking for the cheapest way possible to integrate digital signage for your project. Possibly even for free. But is it even possible ? Can you get free digital signage solution in 2020 ?
Sure there are Open Source Solutions available and cheap hardware that can be found or even reused for digital signage. But is free digital Signage a reality?
Our TOP 5 Advantages
Ready To Use Solution
No Technical skills needed
Premium Support & Video Tutorials available
Plug & Play Solution
Free automatic Updates
Open source Digital Signage
EasyCMS is based on Xibo open source digital signage solution. This is a free application that helps you manage your content remotely, monitor your network of players, and much more. Thanks to its AGPLv3 licence, anyone can use it for their digital signage project.
That is why we selected Xibo for easyCMS. It is free to use no matter the size of our network. That is a big advantage and this is why we call easyCMS a free CMS solution. Because we do not charge for the software. We give it for free.
Cloud server for digital signage
But the application is only one part of the solution. To make your Digital signage work you will need to set up a server to host the application. This will be the central location where all your files and data will be stored.
All users connect to this server to update the content, add new video files, create playlists, change the schedule of playlist,… This is the core of the solution.
But the server has a cost. With easyCMS we use state of the art servers to guarantee uptime and speed to our users. On the top ouf that we implement a back up solution in case of a server crash. In this way no data is lost and we can recover it.
This will have a cost depending on how you use it and how many users are storing files on it. But generally it is a substantial part of the budget.
Support and service
When you get a free digital signage solution it is likely that no support will be available. You are on your own to set it up and maintain it. So if you are an expert in IT and computer that might be fine, but that is not the case of many.
This is why at easyCMS we offer free support to our users. We help our users to make the most of there digital signage solution. To find ut more abut ur support, please visit our support page here. With over 10 years experience, our team is ready to support you in any scenario and deployment. Small or large.
We support you with basic set up of your account and players. We support you with free training and free online tutorials. We want to make sure that your project is a success.
Digital Signage Player
So the application is running on our server, but now we need to get to the end goal. Display video, images and dynamic content on our displays. For this we use players, Players are like mini PC specially made for digital signage.
Of course you could use any computer for this purpose. Even re-use an old computer. But to be honest you will run in multiple issues very quickly. Windows is very unstable for digital signage, and can cause crashes, black screens and other issues.
This is why we select special hardware, with special version of windows to run our CMS. We even have an android version available for indoor LCD projects. These players are made for digital signage and tested for this purpose.
At easyCMS we sell our players with everything pre-configured. They are allocated to your account and you just need to plug it to the display. The player is the only thing you need to purchase form easyCMS. After that there are no extra costs.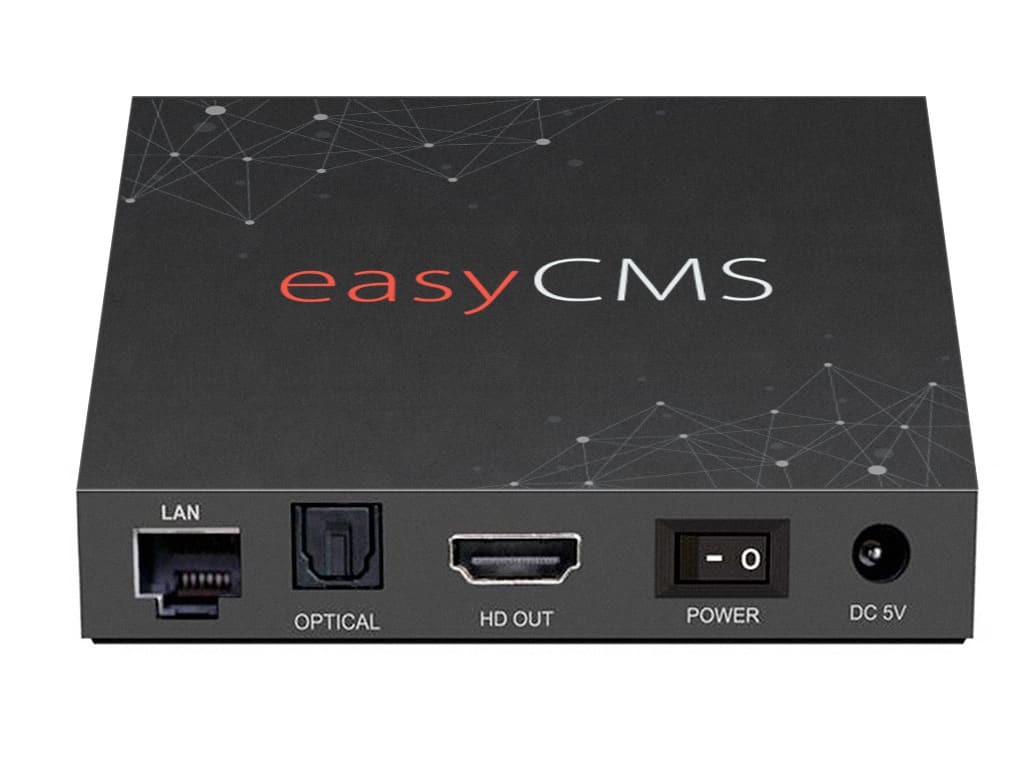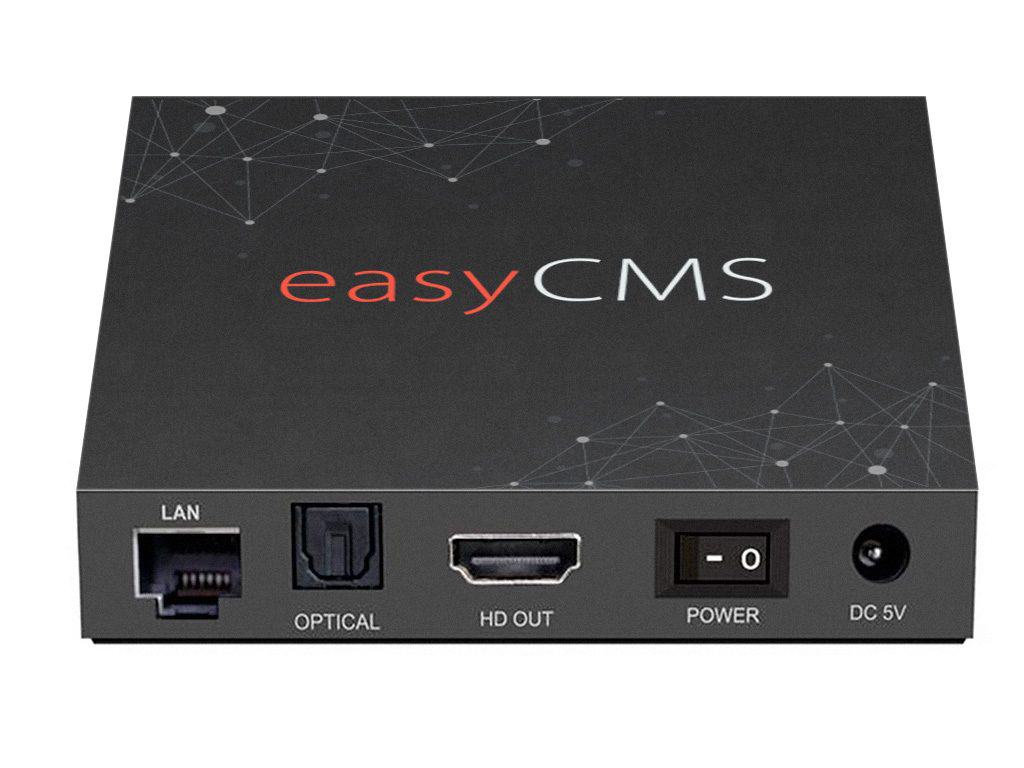 So is easyCMS a free digital signage solution ?
The mission of easyCMS is to offer the best digital signage solution for the best price. So part of it is free, like the application and other part is paid, like the hardware and service. This way you can get the best digital signage solution at the best price with the best service.
We believe this is currently the best offer on the market for digital signage. You only pay for the player and after there are no recurring monthly fees. Our players starts at 199€, you can check it over here.
If you have any question about easyCMS or Digital Signage in general, please contact us here, we will answer with pleasure.