Easily upload, manage & display your content with eayCMS
Managing your content across your digital signs is made easy with easyCMS. Create playlists of different content types, and schedule content to run on one or many displays. You can organize your displays into groups and easily schedule when and where your content is showing.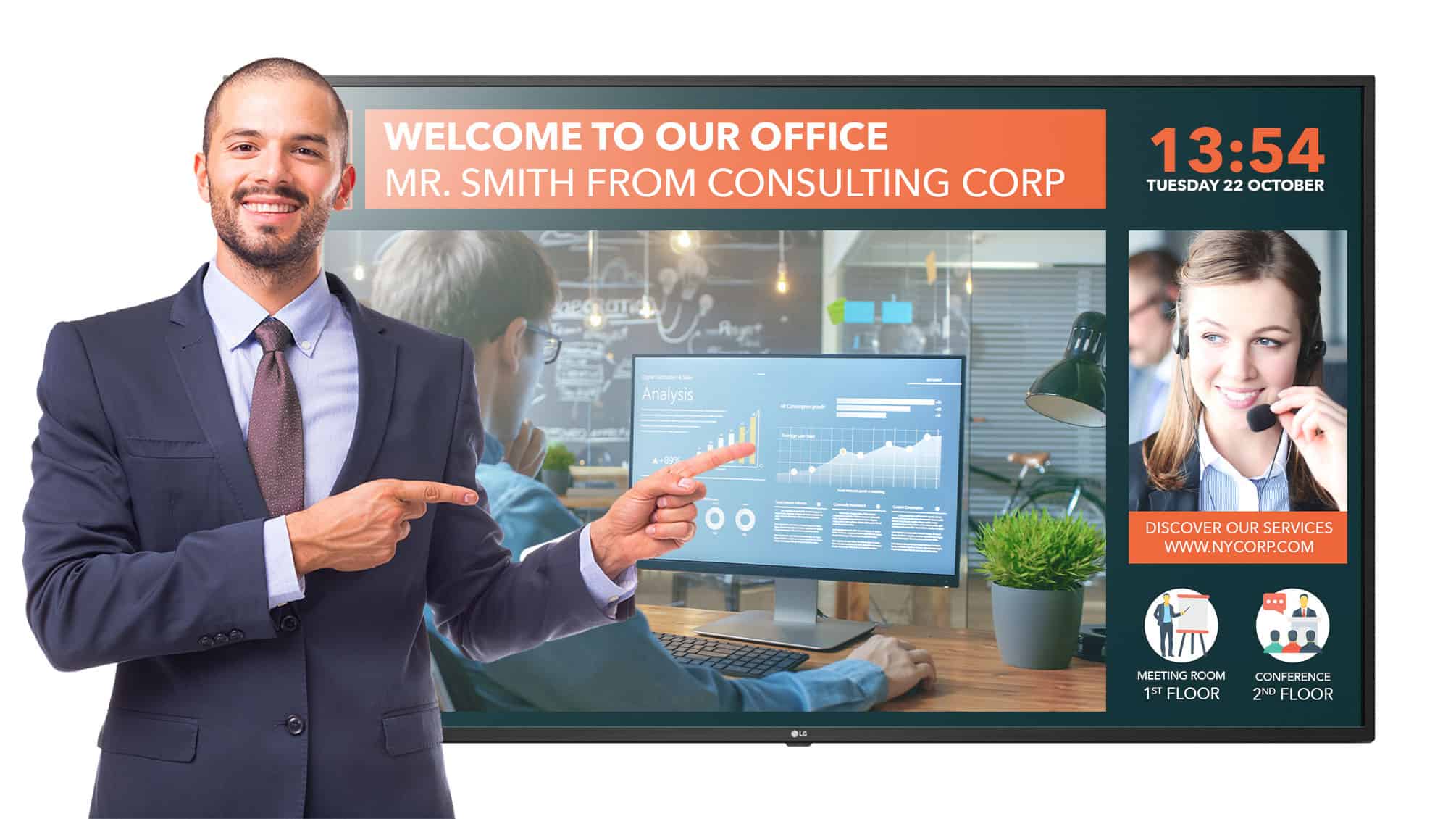 Fully hosted in the cloud
No need to install any software, simply connect to easyCM via your browser.
Portrait or Landscape
Display content on either orientation. Perfect for vertical menu board or horizontal movie trailers.
Multi zone layout
Divide the screen in multiple zones and display more informations. 
Works even offline
Your screen can be offline* and the content will continue to show.
*Content must be uploaded first
Manage many screens
One screen or one hundred, that's easy with easyCMS. Manage them all from anywhere thansk to the cloud.
Full HD & 4K
Display Full HD and 4K* resolution images, videos, and web pages with ease.
*Requires compatible hardware
Fast content update
Content is udpated locally very fast*. Allowing you to communicate efficiently when you need to display time-sensitive content ASAP.
* Internet speed dependent
Great Stability & Security
Regular and free software updates guarantees stability and security. We use the bets hosting solution available to gice you the best speeds and up time.
Daily Back up
We make a daily backup of your data to make sure nothing gets lost!
Montioring
Check the connection and playback statuses of your digital signs from anywhere on your laptop.
Features
Standard (Free Licence)
Advanced (Licence)
Enterprise
Fully Hosted (Cloud)
V
V
V
Software Updates
V
V
V
Dashboard
V
V
V
Upload Images, Videos,...
V
V
V
Playlists/Timeline
V
V
V
Tag-based/Dynamic Playlists
V
V
V
Scheduling
V
V
V
Layout Design
v
V
V
Split screen to zones/regions
V
V
V
Media Library
V
V
V
Widgets (Weather, Social,...)
V
V
V
Network Monitoring
V
V
V
Data Sets (Database, SQL)
-
V
V
Playback Reports
(Proof of Play)
-
V
V
Creation of users
-
-
V
Custom User Roles/Permissions
-
-
V
White Label Server
-
-
V
Custom Domain Name
-
-
V
Widgets
All the widgets are included in the Standard Version. There is no limitations to use them.
Widgets allow you to add weather, time, images, videos,… to your layouts.
| Widget | Windows | Android |
| --- | --- | --- |
| AUDIO | V | V |
| CALENDAR | V | V |
| CHARTS | V | V |
| CLOCKS | V | V |
| CURRENCIES | V | V |
| CUSTOM FONTS | V | V |
| CUSTOM WIDGETS | V | V |
| FLASH | V | - |
| GOOGLE TRAFFIC MAPS | V | V |
| HTML | V | V |
| HTTP LIVE STREAMING (HLS) | V | V |
| IMAGES | V | V |
| MEDIA RSS | V | V |
| PDF | V | V |
| POWERPOINT | V | - |
| RS232 | V | V |
| RSS/ATOM | V | V |
| RSTP STREAMS | - | V |
| SHELL COMMANDS | V | V |
| STOCKS | V | V |
| TWITTER | V | V |
| VIDEO | V | V |
| WEATHER | V | V |