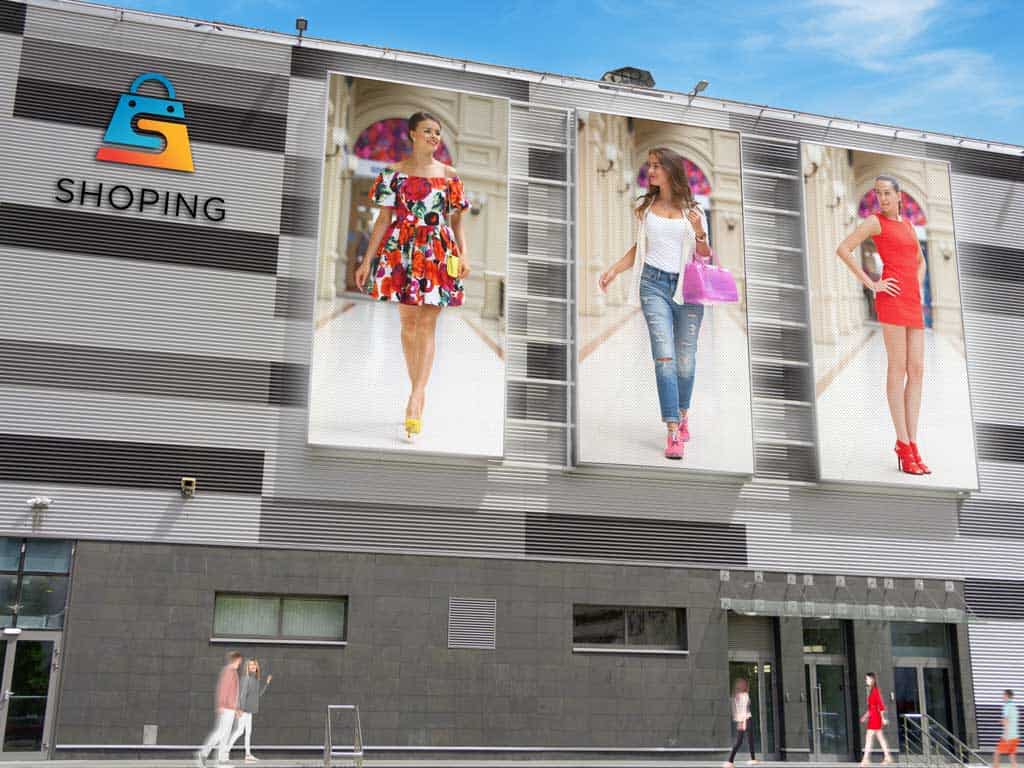 LED Display Outdoor P5.9mm 200x300cm (6㎡)
This P5.9mm outdoor LED Display configuration of 300×200 cm or 6㎡ is made for outdoor applications like advertising, road signs or totem LED. This aspect ratio of 2:3 is perfect for advertising and communication, it is very close to the traditional prints and poster. The shape make it more impactful to the target audience.
The P5.9mm is perfect for outdoor advertising by the road or on the top of building. Thanks to the SMD LED, angle of vision is very large and the display can be seen for any directions. The recommended viewing distance is 5-8 meters for best results.
With a wide range of cabinet sizes for your outdoor fixed installations, this product is most suitable for facades, store fronts, shopping centers, digital road signage but could be well suited for other types of applications. Only 8.5 to 15 kg per cabinet, it is a modulable product capable of resisting demanding environments. It's a very flexible product considering the maintenance can be done from the front or the back. Additionally to all these features, it allows perfect 90 degrees angles. This enables your screen to be installed in corners or create cube displays.
All Our LED Displays are delivered pre-configured with instructions for simple mounting. It is fully compatible with easyCMS for facilitating communications between you and your target audiences. Our Windows Player is delivered preconfigured for your display.
• 3 years Warranty
• easyCMS Player included
• LED Display pre-configured
• Plug & Play solution
• Stock available in Europe
• Delivery within a week
• After Sales service located in Europe
Click here to learn more about our LED Displays
Applications and use case:
Outdoor digital advertising or information system
Stadiums
Concert halls
Shopping malls
Parkings
… and many more
easyCMS Windows Pro Player included
Our PRO easyCMS Digital Signage Media Player is created specially for the most demanding users and environnements. it is the result of many years of experience and it uses the latest hardware and software available. (PDF technical sheet available here).
Our players are pre-configured and Plug&Play. easyCMS application is pre-installed and activated. For support purposes, TeamViewer is installed and activated on the device. This can allow our team to access it in case of emergency. This can be used to control your LED Display remotely and set up parameters like monitoring, brightness,…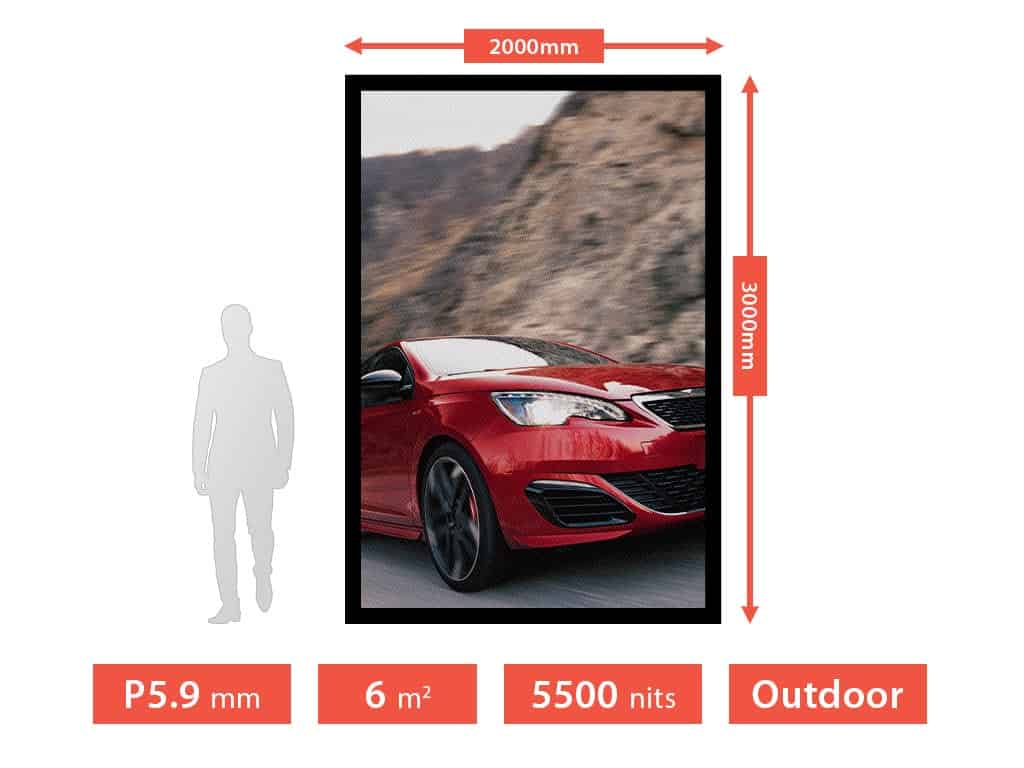 | Parameter | Specifications |
| --- | --- |
| Pitch | 5.95 mm outdoor |
| LED Type | SMD 2727 Black Face |
| Screen Dimensions | 2000 x 3000 mm (Width/Height) |
| Screen Resolution | 336 x 504 px (Width/Height) |
| Surface | 6 square meters |
| Number of cabinets | 12 (4x3) |
| Cabinet dimensions | 500 x 1000 mm (Width/Height) |
| Maintenance | Back & Front |
| Brightness | 5500 Nits |
| Refresh rate | 3840 Hz |
| Average Power Consumption | 2880 w (all screen) |
| Maximum Power Consumption | 7200 w (all screen) |
| Angle. Vision | 140° |
| Ingress protection | IP65/IP54 (Outdoor) |
| Weight | 180 Kg (all screen, no structure) |